£500,000 is a substantial and healthy property budget for many people. Depending on where you live, it could buy you an ample sized home in a sought after area with generous proportions and desirable features such as garages and a large garden. However, how much property you get for your money will primarily come down to where you want to live, and house prices fluctuate wildly worldwide. In this article, we will look at precisely what half a million UK pounds can buy you in different countries and regions.
Certain factors will always affect property pricing. For example, if you live in a city, you can expect the cost of living, in general, to be higher compared to a more rural location. The country you choose to purchase property in will also influence the price. According to this EIU report, the most expensive places to live in the world include Tel Aviv, Paris, Singapore, Zurich, Hong Kong, New York and Geneva. In addition to this list, if you are looking for property in Shanghai, London, Vancouver or Los Angeles, you'll also find property prices in these prestigious locations higher than anywhere else in the world. Finding a property for £500,000 may prove challenging in the highest-ranking cities on the list. 
What factors affect property prices?
If you are in the UK, you are probably already aware that house prices have soared since 2020, and the property market has shrugged off the effects of the Covid-19 pandemic. The same is mainly accurate for the rest of the world. According to the Global House Price Index, three-quarters of the countries listed saw property prices increase in 2020, and they have been climbing steadily ever since. Several factors influence property prices wherever you are in the world, which can include:
Interest Rates

Economic Growth

Number of Households

Supply and demand

Affordability of housing

Availability of mortgages

Speculative demand

New builds

Numbers selling

Size of population

Unemployment levels

Exchange rates

Income levels

Transport links to commercial areas

Local amenities

Desirability
These factors are continuously changing globally which is why you'll see such a huge difference in property prices and what is available for your money throughout the world. 
Let's look at what is available around the world in 2022 to understand what half a million can buy you.
London
London workers face the dilemma of buying a property in the metropolitan city or choosing to live out of the city and spend more time and money travelling. For those looking for a property in the heart of London, £525,000 can buy you a cosy one-bedroom apartment in the sought after SE1 postcode. Although smaller than you may find outside the city, the property does have a spacious open plan living/dining, a double bedroom, secure parking. In addition, it is within walking distance of 5 major tube/train stations, making it's location one of the best available for London commuters. 
If you are in the market for something a little roomier and your budget can stretch a little further, you could purchase a flat like the one below in Balham for £550,000. This property features two good sized bedrooms, a large living area and a separate kitchen. 
Lincolnshire
It's a stark comparison, but if you are looking for a UK location where you will get substantially more property for your money, Grimsby in leafy Lincolnshire is a great option. Compared to the petite apartments you can buy in the capital city, a mere £480,000 could buy you this grand five-bedroom detached house in a sought after area. As well as five bedrooms, the property also has four reception rooms and a garage and driveway. So if you are looking for a property in this area, you certainly won't be short on space or need to stretch the budget to purchase a family home for £500,000.
Tel Aviv – Israel
One region that has seen property prices rocket in the last two years is Tel Aviv in Israel—currently ranked as the world's most expensive city. It took the top spot due to global inflation levels and the local currency's strength, the Shekel against the weakened USD. Across Israel, you will find that house prices have more than doubled since 2011. In the most expensive region, Tel-Aviv, £500,000 could buy you this three bedroom spacious apartment. Whilst the property does have potential, it needs renovation and some TLC, so it will be a project for its next owner to undertake. In such a prestigious location, the renovated apartment could sell for substantially more than the current listing if finished to a high standard. The 8th-floor property is located near schools and other amenities, and there is good parking nearby and access to good transport routes in and out of the city.
Paris – France
The world's second most expensive city to live in is Paris. So, as you can imagine, £500,000 doesn't provide you with an abundance of space. However, it can buy you this recently refurbished two bedroom apartment located just 1.5 miles from the Eiffel Tower and just 8.8 miles from the Paris airport. The apartment has a bright and airy feel and two good sized bedrooms. Although not a vast property, you do have the benefit of owning a property in a prime location and within one of the most romantic cities in the world.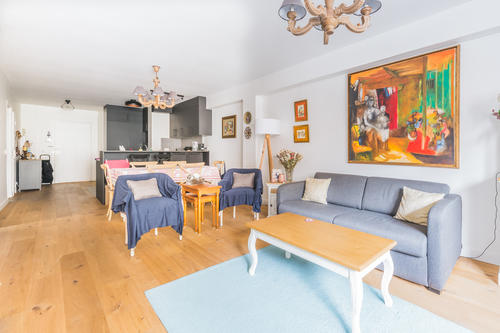 Singapore
Singapore is one of the most dynamic and fast-growing cities in the world. Property prices continue to be high due to demand outstripping supply and the fact that it is one of the top financial regions globally, attracting a large amount of foreign investment. That being said, you can still purchase an ample size apartment in Singapore for around £500,000. For just over £500k, you can buy this modern three-bedroom apartment on Queen's Road, located a one minute walk to the nearest train station at Farrer Road, making it exceptionally well placed for commuters. This apartment is fully air-conditioned, with a balcony and a view of the local park and green areas. As well as having three bedrooms the property also has two bathrooms and a study area making it a family-friendly home in a good neighbourhood.
Zurich – Switzerland
Another city with some of the highest property prices globally is Zurich. Switzerland as a whole is well known as one of the most expensive countries in the world to live in. Across the country, everything from groceries to going out and buying property is costly. But what exactly can you buy if you are looking to move to the Swiss city with a budget of £500,000? For just over £445,000, you could purchase this recently refurbished, ecological terraced house, which comes with a recently landscaped large garden, heat pump and solar panels. The house, which is perfect for a couple of single-occupants is conveniently located with good connections into the city. The property listing describes this quaint house as a dream home in the city. 
New York
For £500,000, there are a variety of property options available across the city. Depending on where you want to live, the budget could get you a one-bedroom apartment or a modern condo.  If you are willing to live a little further from the city, it could buy you a generously sized house. For example, in Brooklyn, £500,000 could buy you this modern studio near the Grand Army Plaza. The apartment is stylish and spacious, and the building features a handy elevator and a communal rooftop terrace to enjoy skyline views across the city.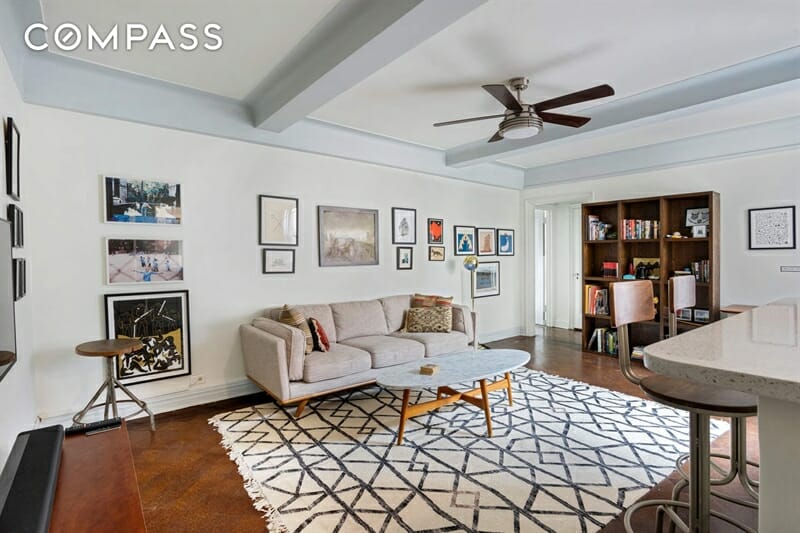 However, if you are willing to travel a little out of the city, you could buy yourself a four-bedroom home complete with a garage and garden space like the one pictured below. This property in the New Hyde Park area of the city features generous living areas, two bathrooms and is situated near parks and common areas.
If you head out to Melville, Long Island, your money could buy you this lovely five-bedroom, 2500 sq. ft. house with a double garage and three bathrooms. The property is finished to a high standard and has attractive hardwood flooring throughout. It is located in the popular Deer Park locality of NY and the perfect family home with good access to New York City.
Barcelona – Spain
Barcelona is not one of the world's most expensive countries to live in, thanks to a slump in property prices due to economic circumstances. However, Barcelona continues to be a popular city and popular with international investors. At the moment, you can buy this new build four-bedroom property in the Cardedeu region of Barcelona for £496,000. The semi-detached property is over two floors and includes a private swimming pool and extensive outdoor space. The house design is based on the precepts of feng shui to create an unbeatable distribution of energy in which the rooms enjoy perfect comfort and balance. This new build property has been built using low emission materials, making it environmentally friendly and sustainable. As a result, the property has achieved an AA energy rating. It is also located just five minutes from one of the best shopping areas in Catalonia, La Roca Village.
Melbourne – Australia
Another city that makes the list of the world's most expensive cities is Melbourne. £500,000 can buy you a sizable modern apartment in the heart of the bustling city. For example, the one pictured below is a three-bedroom property located on the fifth floor conveniently set between two of Melbourne's most iconic streets. The apartment is surrounded by Melbourne landmarks such as the Victoria Market, the State Library and Melbourne Central and Flagstaff Garden. The living area is spacious and features a private balcony with skyline views. The EQ tower where the property is located also boasts exceptional communal facilities such as a 25-metre outdoor swimming pool, BBQ area, indoor gym, sauna, spa and private dining rooms. 
Marrakesh – Morocco
Head to the tip of Africa in Morocco, and you will undoubtedly see a bit more property for your money in the popular destination of Marrakesh. Listed for just over £500,000, you can find this attractive three-bedroom villa in one of the most sought after complexes in Marrakesh. Located 6km from the bustling centre and only 3km from the airport, the location is ideal for holiday lettings in the region. For your money, you will get three spacious bedrooms, two bathrooms and your own private swimming pool. In addition, you can enjoy outstanding views of the Atlas Mountains and the local golf course from your terrace. 
Hong Kong
Land in Hong Kong is scarce, and you will be hard pushed to find a property in the city for £500,000. In fact, we found just one close to our £500k budget, which is this little studio flat where your living room, kitchen and bedroom are all in one 'Studio' room with a separate tiny shower room. The property is located in a popular area with good access to all amenities. While this might seem expensive for what you get, there are, in fact, parking spaces in Hong Kong that have sold for more than the price of a house (and more than the price of this little studio flat) at a staggering $640,000.
Final thoughts
In conclusion, with a £500,000 budget, you can buy a property in some shape or form, even in the world's most expensive cities. While you might find floor space is limited in some locations, many offer the little luxuries associated with living in the world's most popular cities, such as fantastic skyline views, outstanding facilities and private parking and gardens. For the most part, the properties listed are ready to live in immediately and offer excellent investment opportunities. Of course, there will be opportunities to purchase properties in each location in need of renovation for a lower purchase price which could offer an excellent return on your investment if you are considering purchasing to renovate.